I hope all of your Christmas preparations are going well and you are not too daunted by all the tasks you have to get done. If you are watching my Vlogmas Vlogs over on my
Ginger Juice YouTube channel
you will know / see how I have been getting on.
If you have been following me for a while now, you will know that I make and sell my own filofax printables in my
Etsy shop
. I try not to make this blog too much about selling, or my other social media platforms that matter because I want to just share more of my life, art journal etc with you Guys, not be "here by this product" all the time. I enjoy using my social media as an extension of my journal for that is what I see it as. From me you get a mix of my life in different ways. Anyways I digress, what I am sort of trying to say is that I don't really share the inserts much with you. I kind of tell you about them and then that is it, it's not a hard sale over and over which is why you don't get to see many pictures or stuff about them. I don't know, maybe I should and I would make more money that way! lol! But you dear readers are my online friends so I don't do that.
I do however want to share you a photo now. From my onlineness and from creating videos over on YouTube, I have met some lovely people that have now become my friends. One of those dear people is the lovely Veronica Snowflakefaerie. She is such a lovely lady and has been really supportive of me and made lovely comments on the videos when some people can be so negative. Anyway she is a really lovely talented lady and creates some wonderful art work in her journals, she is very inspiring to me. Ms Snowflake has a set of my Christmas filofax inserts and she has very kindly consented to letting me share a picture with you guys. I love seeing the inserts in action and what people do with them so if you do have a set please let me know if you have any videos or pictures etc as I would genuinely love to see them in action.
I really love what Ms. Snowflake has done with them. They are black and white with wideish margins so that you can have the pleasure of customising and decorating them yourself. I really love the blue borders and the holly in the corner.
Below is the picture of what they look like black and white. so you can see that they look lovely when they are all decorated up.
Blatant plug: To purchase a set for yourself (it is never too late to get all organised for Christmas!) then please visit my Etsy store
here
. If you missed the video of these inserts in action please see the video here.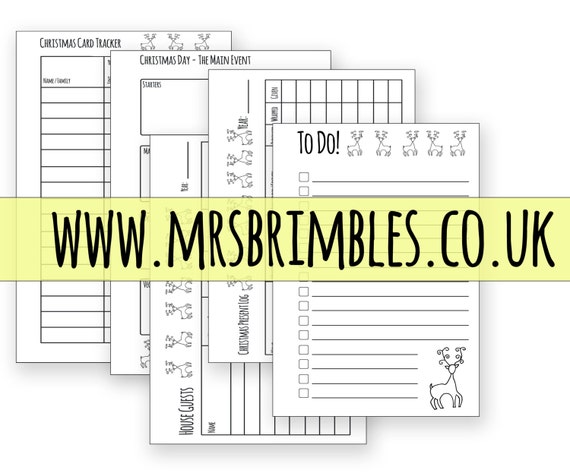 If you missed the video that I did on how I organise for Christmas using these inserts then don't fret here it is
Come back to the blog later this month and I will share more of Ms. Snowflake's work but in the meantime you can check her out too but clicking on the icons below: